Top 5 Reasons To Have a Winter Wonderland Wedding.
Thinking of having a winter wedding? A pure white blanket of snow can be truly romantic, here are 5 great reasons to plan your wedding around this magical time!
Summer is the traditional and easily the most popular season to have a wedding. But what if you don't do well in the heat? What if your more attracted to snowy fields than sunny beaches? Is it worth considering a winter wedding?
Yes it is, here are 5 great reasons to have your wedding in the winter!
1) If You Can't Stand the Heat… Book a Winter Wedding.
There's a common preconception that every one loves the summertime but we're all different and some people will prefer to keep cool, rather than roast away in the sun. This goes double for a wedding day where you'll be spending most of your time in a beautiful but thick and heavy dress.
If you get hot wearing a heavy dress or don't do well in hot weather, then imagine how hot you'll be in a wedding dress in the middle of summer.
For a winter wedding however, that same dress will keep you nice and warm!
2) Clear Blue Skies.
When you read 'clear blue skies' your mind probably conjures up images of idyllic summer days. However, you will probably be surprised to hear that it's the November and December months that have the majority of this type of weather.
Sun and heat can cause the weather to change rapidly, so one minute you'll be out in the heat and the next you'll be running for cover from a surprise downpour.
November and December on the other hand tend to have more days where the skies are blue and cloud free, not only that but it stays clearer for longer. Sure it might be a little chilly but that's what all the suits and dresses are for!
Another bonus is that the sun is lower in the sky which can produce a less harsh shadows, softer light and beautiful sunsets. This is great news for your photographer and videographer and the effects will be seen in your wedding videos and photos.
3) Cheaper Venues and Services.
The winter months are traditionally the "down time" for the industry. Some photographers and videographers call it a day and shut up shop until the spring. Many though, still stay active but compensate for the quiet times by slashing prices! I myself offer £100 off if your wedding is in November, December or January. That's only £499 for a professional video of your day.
The savings don't stop there, possibly the most exciting prospect are the savings that can be had on venues! Like I said, the winter isn't too busy for weddings, so any venue that primarily caters for weddings will be cutting prices to entice couples to book.
Even venues that don't necessarily make the majority of their income from weddings are likely to offer some special rates at this time. So if you have your heart set on a venue, it's worth asking what their winter packages are like. The savings could be huge.
This advice goes for basically any wedding related businesses, from cake makers to florists. If you shop around, you'll find some great deals and the combined savings could well slash the price of your wedding in half.
4) Beautiful Snowscapes.
Sure, not everyone likes snow but for those that do, there's no denying that it can add a touch of magic to an other wise ordinary setting. It's also great for videographers like me, so you can expect a magical snow filled wedding video.
Ok, so we haven't had a decent covering of snow in Manchester City centre for a few years but head to the hills of the peak district for example and you'll find stunning snow covered views, pretty much guaranteed year on year.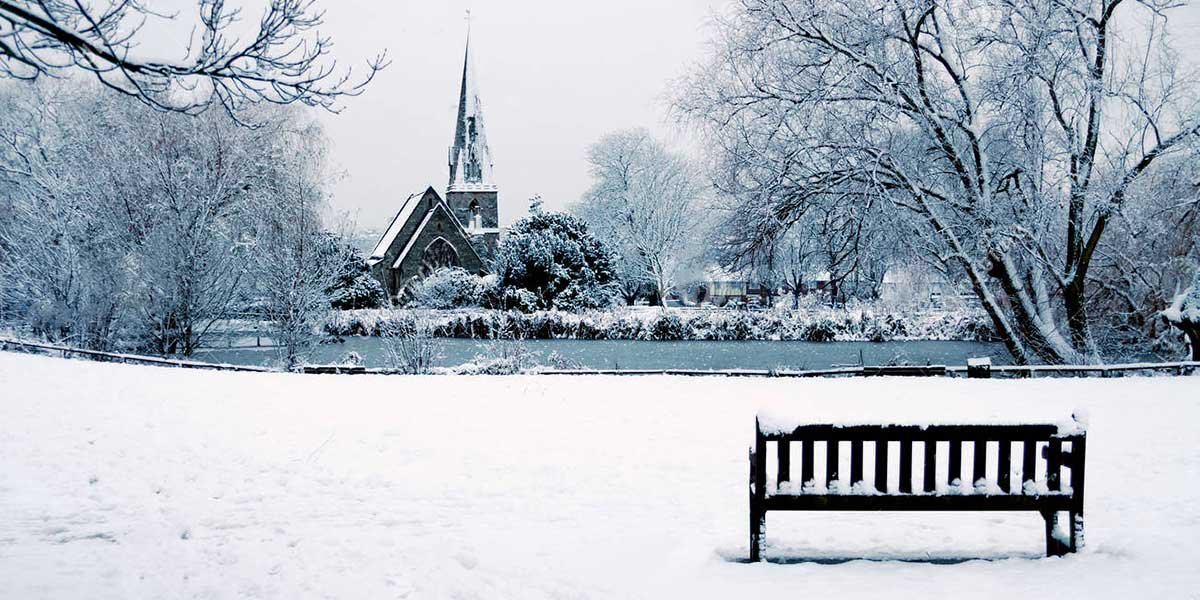 You don't always need to head out to the hills for snow. Many of the Manchester boroughs will generally have a few snowy days per year. The trick is predicting when and how long it will stick for. If recent years are to go by, January not December is the best bet for a snow filled day or two.
5) You love Christmas!
The last reason is probably the best! If your a big fan of Christmas, why not combine the magic of the holidays with your special day to create the ultimate day? I'm not suggesting to have a wedding slap bang on the 25th, as that may prove to be a little too hectic. However any day around this time can have a festive theme and feeling.
Family and friends will already be gathering, so why not take advantage? Imagine enjoying that special christmassy feeling on top of the joys of your wedding day. It will be the icing on the Christmas cake!
Most venues will already be decked out with lights, tinsel, Christmas trees and baubles, so thats a lot of the decorations already taken care of, with no expense or effort for you.
The downside? Guests might only give you one gift and say its for both your wedding and Christmas!
If you are thinking about having a winter wedding, let me create a beautiful film of the day. Check out my films!
https://www.motionlight.co.uk/wp-content/uploads/2018/01/winter-wedding.jpg
675
1200
Alan
https://www.motionlight.co.uk/wp-content/uploads/2017/11/Motionlight-logo-large.png
Alan
2018-01-10 19:56:30
2018-09-26 20:37:53
Top 5 Reasons To Have a Winter Wonderland Wedding.